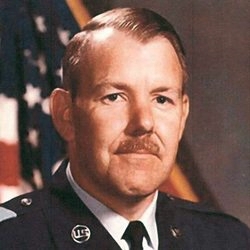 David Ray Galbreath, of Frankston, passed away on Wednesday March 15, 2017 at the age of 74 in Tyler after complications from pneumonia.
He was born July 15, 1942 in Milano, Milam County, Texas to David Russel and Tena Inez (Beavers) Galbreath.
On Sept. 05, 1971 David married Barbara Ellen Hampton in Shreveport at Grawood Baptist Church.
He graduated from Rockdale High School in 1960 and Louisiana Tech University in Shreveport in 1975 with a Bachelor in Engineering.
David joined the United States Air Force in August 1963 and retired as a Master Sergeant after 23 years of service.
In 1986, David and his family moved to Frankston where he became a correctional officer for Texas Department of Criminal Justice, Michael Unit and retired after 25 years.
He was also a member of the retired Missileers Association, the Historic Aviation Military Museum, and the Milam County genealogical and state of Texas historical societies. A historian in the preservation of Milam County history, he recently published many works including a book titled, Historic Bridges of Milam County through Arcadia Publishing Company.
Mr. Galbreath was preceded in death by his father, brother, Kenneth Lee Galbreath, nephew Jimmy Wayne Baxter, father in-law Wade E. Hampton and mother in-law Gracie Locke Hampton.
He is survived by his wife of 45 years and three children, Ellen Christine Durham and husband John of Wahoo, Nebraska; Tracy Lynn Young and husband Joshua of Bullard, Texas and Derek Ross Galbreath of Frankston. He is also survived by his ten grandchildren, Autumn, Josh, Jordan, Sarah, Danielle, Jessica, Lockey, Jacob, Chance, and Merrick and eight great-grandchildren. David is also survived by his mother Tena Galbreath of Rockdale, sisters Mary Ann Batis and Linda Sue Taylor, including numerous other relatives and friends.
Funeral Services are scheduled for 2 p.m. Monday, March 20, 2017 at Autry Funeral Home Chapel in Frankston, Texas. Military burial service will follow in Frankston City Cemetery.
Visitation will begin on Sunday, March 19, 2017 and friends are cordially invited to visit with the family from 6 to 8 o'clock in the evening at Autry Funeral Home, Frankston.
Pallbearers are Brian Hampton, Josh Durham, Brentley Perrigo, Jason Hosch, Randy Billingsley and Jack Brooks.
[Find A Grave - https://www.findagrave.com/memorial/177453570]