In Memorium - Vivian Mae ROGERS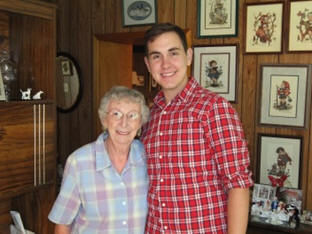 Vivian Mae Rogers, Member #151 has been with us since our Clan organization began in 1981. She is a daughter to Oscar Galbraith who was born in 1885 Ontario. Early on she had her family history documented back to John Galbraith who married Margaret Galbraith (daughter to William Galbreath!) in 1768 in the Balfron Church of Stirlingshire. Many of us with Vivian visited that church during 2012 Gathering.
Vivian embraced DNA testing. When she discovered second grand-nephew Jorden Tyler Galbraith (#1281-pictured with Vivian) living ten minutes away, we had him tested and were able to confirm their Group 1 heritage-plus, after more effort, their line reached back to 1605 in Perthshire and likely converges with the Galbraith Chiefs around 1400.
However, Vivian's greatest and most exacting achievements came during her early time as a member. In those days and lasting for many years Vivian was half of our dynamic genealogy duo. Her partner, Edwin A. S. Galbraith #90 was our Clan Chief Genealogist and they lived not far apart. Edwin had math-physics degrees from Cornell and began his own Galbraith studies after WWII and Vivian was the great organizer of their member findings.
Their first project was to contact (visit, write or phone) 500 Canadian Galbraiths to determine their documented and oral family history. These reports were organized and indexed in Galbraith Settlers in the 19th Century Canada.1 [You might ask "How come our Clan Genealogists were doing Canadian Histories?" Well, Canada was under-documented and the 800-page 30 year-effort by Elmer Galbreath was just being released as Galbraiths of the USA. Additionally, our original Clan was "Clan Galbraith Society of North America." Plus, their next work was Index 1, US which followed and extended the histories of all our US-based members. Next, they prepared Index1, Canada for our members north of the border. All their work and many updates were laid out in a meticulous script. Two years ago our current stalwarts, Laura Adams (from the Coles Co IL Group 1 line and back to John Galbraith of York Co PA), Carol Kiefer (her James the Quaker of Group 11), and Lynda Beedham, (a Group 1 Canadian, with a proven line back to Chief Andrew) transcribed those early works so we all can benefit.
I first spoke with Vivian on her 80th birthday (that no longer seems old to me) when I called to get some Galbraith history. I had traced her to her winter lair in Naples Florida. Although she did not have many papers with her, she had it all in her head! For the next several winters (until her husband died) Anita and I drove down from Tampa to a little motel, where we were able to walk to their home.
After 25-years helping us Vivian had to drop her Clan activities (yes, she was a fixture at Culcreuch and other Gatherings) as she had a stroke two years ago. We had a call from her son Gary Rogers on 7 July 2019 that Vivian had passed away. Vivian was 93.
1. The history was largely for Ontario, where most Galbraith arrived and resided. Many were traced to the other Provinces and the United States-so that the Edwin-Vivian effort expanded.
---